Brought to you in part by Birch Aquarium at Scripps which is working to preserve the seahorse worldwide through its education program and on-site propagation of seahorses.

All images and the game credit Birch Aquarium at Scripps

Leafy seadragon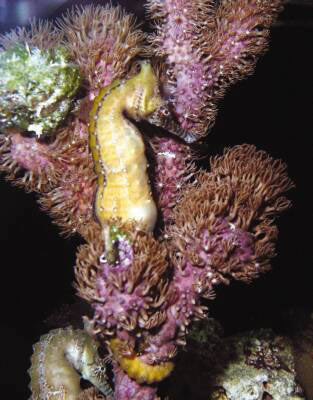 Seahorse
Seahorses together
Weedy Seadragon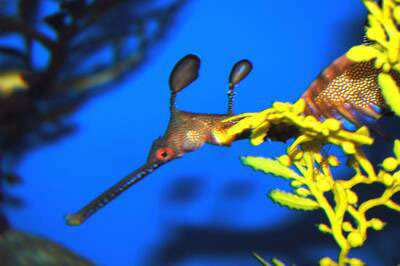 Weedy Seadragon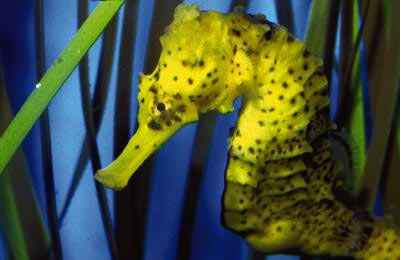 Seahorse
(Photos above: Birch Aquarium at Scripps)
Seahorse anatomy: Take a look inside the seahorse and see how it functions.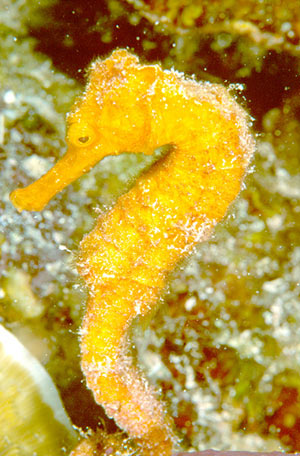 Seahorse, Turneffe Island, Belize. Photo: Wikipedia Free Commons
Go to "
Episodes and Games
" for the Seahorse game brought to you by Birch Aquarium at Scripps
Potbelly seahorse pair link tails at the Tennessee Aquarium. Photo: Tennessee Aquarium Wikipedia
Learn about the Seahorse Conservation Program at Birch Aquarium at Scripps:
To date the Birch Aquarium has shipped 1,428 seahorse specimens to 45 aquarium facilities worldwide. Its propagation project started in 1994 for the Pacific seahorse, Hippocampus ingens.
See a
Video
of the Secrets of the Seahorse Exhibit
Birch Aquarium at Scripps
, located high atop the dazzling Pacific Ocean in La Jolla, Calif., is the public exploration center for the world-renowned Scripps Institution of Oceanography at UC San Diego. More than 400,000 people, including more than 70,000 school children, visit the aquarium each year. Visitors discover more than 60 habitats of Pacific marine life from the frigid waters of the Pacific Northwest to the tropics. An interactive museum showcases research discoveries by Scripps scientists on climate, Earth, and ocean science.
Scripps Oceanography was founded in 1903 and has maintained a public aquarium and science museum for more than a century.
Birch Aquarium's
public programs and interactive exhibits for all ages reveal the wonders of the ocean world in marine life displays and cutting-edge research discoveries made by Scripps scientists.
The mission of the
Birch Aquarium at Scripps
is to provide ocean science education, to interpret Scripps research, and to promote ocean conservation.
858-534-FISH,
http://aquarium.ucsd.edu
---
Coral Spawning
Video: Credit NOAA Ocean Service Education


In the first segment of this video, a coral head releases male gametophytes (sperm) into the water column, creating a whitish cloud. Look carefully at the early stages of this video clip to see individual polyps simultaneously releasing distinct streams of sperm. In the second half of the video, another coral head releases female gametophytes into the water column. Unlike the male gametophytes, the female gametophytes are released progressively across the coral head. This video was taken during a 2002 coral reef mass spawning event in the Flower Garden Banks National Marine Sanctuary, which is located approximately 100 miles south of the Texas Louisiana border in the Gulf of Mexico. Video Credit - Emma Hickerson for NOAA


This close-up photo shows rows of individual brain coral polyps in different stages of releasing their eggs. Images like these are very hard to obtain because mass synchronized spawnings only occur on a few nights each year. Photo: Burek for NOAA
Click to see an image of zooxanthellae from NOAA. What are zooxanthellae? This description is from NOAA: Tiny plant cells called zooxanthellae live within most types of coral polyps. They help the coral survive by providing it with food resulting from photosynthesis. In turn, the coral polyps provide the cells with a protected environment and the nutrients they need to carry out photosynthesis.

---